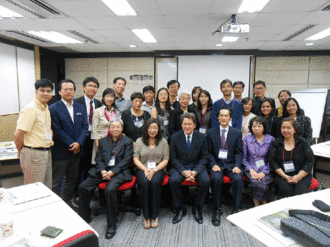 On November 13th-14th, the preliminary meeting of piano societies was held in Hong Kong, having 25 attendees representing 16 piano societies and institutions in 9 countries, including two guests from Canada. PTNA took initiatives to launch this network to connect individual association / group of piano teachers or music institutions mainly in Asia for mutual communication. After 2 days of exchanges and discussions, we came to conclusion that this network will hereafter be called "International Federation of Piano Societies" (IFPS), that aims at exchanging information for the advancement of piano teaching in each country. Meetings will be held annually.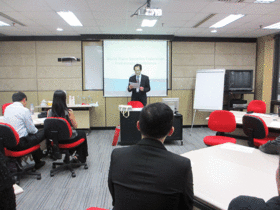 At the beginning of the 1st meeting on Nov.13th, Mr. Seikoh Fukuda (CEO of PTNA) gave a greeting speech. He mentioned that all of us learn and perform the common cultural asset, classical music, despite our differences in learning environment, education system, value of music in the society, etc. And he hoped that this meeting would bring us opportunities to know each other, share experiences and knowledge in the long run.
After self-introductions of each member, representatives of piano societies / institutions made brief introduction about their activities, as well as shared their challenges and issues. Here are the summaries (alphabetical order of the countries;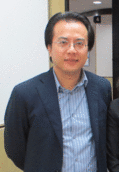 Dr. Tang Zhe from Shanghai (Piano Department of Shanghai Conservatory of Music, Shanghai Piano Society) introduces the Shanghai Piano Festival and e-competition that he established. The e-competition is conducted online (twitter) from preliminary to the semi-final round, and finalists can play live at Shanghai Festival. In the previous session, the number of applicant exceeded 5,000 from everywhere in the world.
Ms. Jin Kaihua (Vice President, Tianjin Piano Professional Council) serves as the president of the artist group at Tianjin Cultural Center to promote Chinese culture to the world. She addressed the next Amateur Piano Competition will be held in Tianjin in 2015. The 3rd IFPS meeting will be held in conjunction of this competition.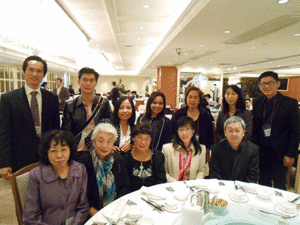 From Hong Kong, Prof. Gabriel Kwok, the head of piano faculty at HK Academy for Performing Arts, introduced their junior course on Saturdays. This course consists of 1h musicianship and 1h piano lesson, and students can choose orchestral training or chorus as options. There are 90 students in piano course at present.
Ms.Takako Shinohara(Japan/HK), one of PTNA authorized members living in HK, gave presentation about the "piano teaching and learning reform" in terms of good posture, expression of one's own music in the heart, and whole personal development.
Ms. Ang Hwie Lie from Indonesia (Pertemuan Musik Surabaya) introduces the monthly meeting of piano teachers to discuss, perform the music to learn in depth. (Stravinsky and Schoenberg) There are hundreds of thousands of piano teachers and students in Indonesia, but no national organization of piano teachers existed.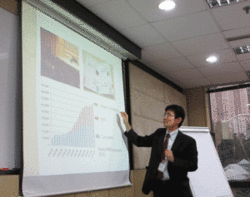 Mr. Akinori Kato (PTNA, General Manager) introduced PTNA Piano Competition, PTNA Piano STEP, teachers learning program (*"ing program", teachers' passport, etc) and indicated how the association has been developed in the past 45 years. *PTNA "ing program" is a well-balanced study scheme for piano teaches that consists of 4 categories; teaching, performing, writing, and submitting reports.
Ms Zhang Wennai(International Music Association, President) established China Music Competition in Kobe, Japan. To promote Chinese music, she has already published 6 volumes of sheet music in Japan. She believed that music would connect people as well as help endure the peace.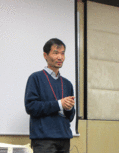 Prof. Sharavtseren Tserenjigmed is teaching piano at Music and Dance College, Ulaanbaatar (the head of the piano program). He introduced the academic background of the piano faculty, the curriculum of the piano department in details, and expected this network to be the platform of mutual exchanges.
Mr. Anthony Y. Say introduced The Piano Teachers' Guild of the Philippines, which he serves as president. It was established in 1972 and has been organizing seminars and workshops for piano teachers, competition, festivals, community concerts etc. "Concert at Parks" is broadcasted nationally. Current concern is to raise teaching standard of regional areas to encourage young talents furthermore.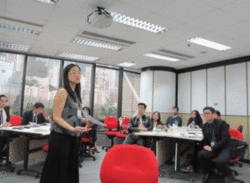 Ms. Julie Tan from Singapore (President, The Singapore Music Teachers' Association) explained the music education in Singapore both in the public and private sector, and emphasized the importance of piano teachers' improvement in the private sector. The Singapore Music Teachers' Association, established in 1966, aims at connecting teachers of all levels and recently started Performers Festival for one of their incentives. In the festival, participants can play in public, obtain hand-written comments from jury, DVD recordings, certificates, and even gold-silver-platinum medals. (recipients of 2 silver medals would obtain scholarship)
Mr. David Wu from LA introduced the activities and state conventions of MTAC (Music Teachers' Association of California), as well as "Teaching on Stage" program where teachers give teaching demonstrations on stage and receive advices from pianists.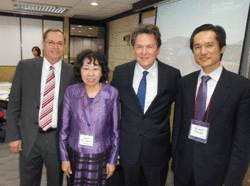 Dr.Peter Simon (Royal Conservatory of Music in Toronto, President) explained their comprehensive music learning program and examination curriculum that is widely adopted in Canada and partly in North America. And he also introduced the Glenn Gould School that is exclusively focused on performance training and the new concert hall with world-class fine acoustic.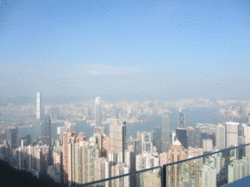 International Federation of Piano Societies (IFPS) will be held annually in each member's country by turns. Representatives of piano societies/associations/institutions, organizers of piano (music) competitions/festivals/events, key figures who intend to form equivalent associations, are eligible to join this federation. Next meeting will be held in Tokyo in 2014 August, followed by Tianjin (2015) and Kobe (2016).
Chinese version of this article is
here